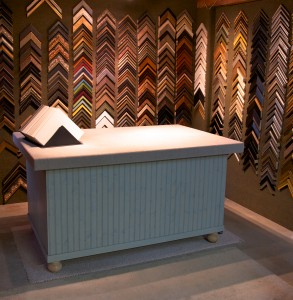 Upon retiring from teaching school in the early 1990's my father set up a frame shop. It was located in the basement of our house. He hoped to provide a place where artists would be comfortable bringing their work in preparation for exhibiting.
When my father died suddenly in 1998, it seemed right to at least finish up the work he had started.  Thus began my endeavor as a framer of pictures. A rhino adorns the signage as a memorial to my father since that is how his friends referred to him.
It never occurred to me that years later I'd still be framing.  More importantly, it never occurred to me that I would have the privilege of meeting so many wonderful people with their interesting paintings, drawings, photographs, prints, fiber art and their stories.
For directions and an appointment please call:  (207) 542-7896